As a turnkey fuel service provider, Relevant Fuel Solutions offers a complete program of testing, maintenance, and documentation required to keep your systems up and running. Our pennies-per-gallon services can make the difference between success and failure for your organization. Our program involves a five-step process that has been proven to maximize the returns on your fuel system investment.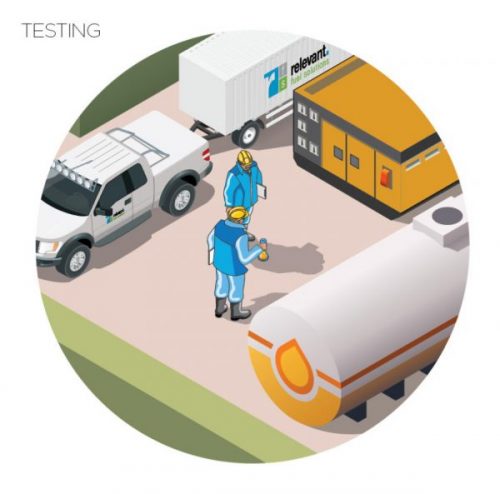 Step 1
Sampling and Formulating a Treatment Plan
For every customer, the first step in our process involves sampling and testing your fuel supply. This allows us to tailor a custom solution that addresses whatever specific challenges you may face. Further, sampling and testing allows us to establish a benchmark against which we, and you, can measure our success.
Our testing service includes fuel sampling and field analysis. Unlike our competition, we can test your fuel on-site and provide you with the information you need on the spot. Once we've completed this first step, we can move forward with a treatment plan designed specifically for you.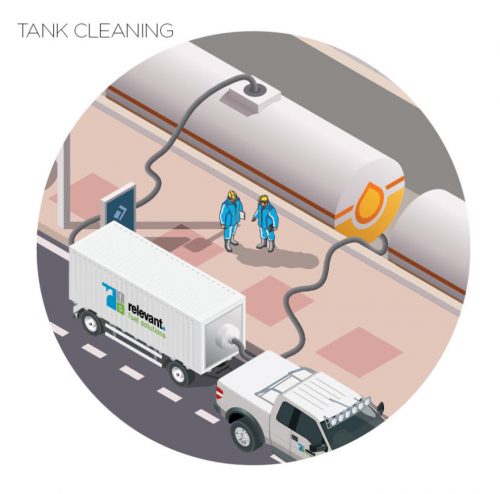 Step 2
Cleaning the Tank
Our fuel cleaning services begin with your tank. Filling a dirty tank with clean fuel may make sense to our competitors, but it doesn't make sense to us. At Relevant Fuel Solutions, we make sure your entire fuel supply chain – including your storage tank – is contributing to your success.
We begin the cleaning process by removing accumulated waste byproducts that have collected at the bottom of your storage tank, ensuring that once the fuel is cleaned it stays that way as long as possible.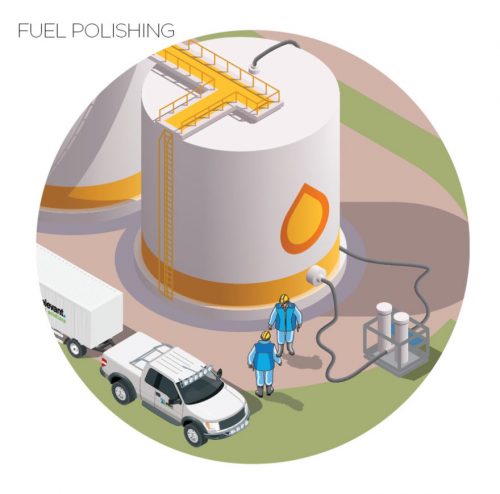 Step 3
Polishing the Fuel
Once the storage tank is free of accumulated waste, we will begin running the diesel through a purification system matched to your needs. Our process of advanced filtration removes additional particulate contamination and moisture accumulation that naturally occur over time. Upon completion, the diesel in your tank will be polished and ready to meet Tier 4 emissions standards.
Note that this part of our turnkey service is available to you on an ongoing basis, should your needs require it. Our component filters and engineered filter systems are available for purchase or lease. We even offer fuel system instrumentation and monitoring components for dirt particle and moisture control.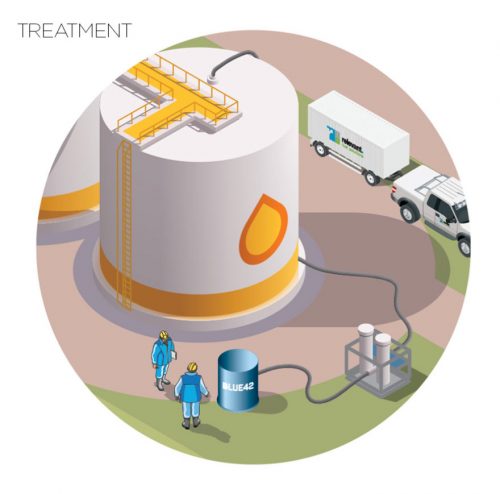 Step 4
Treating the Fuel
Moving forward with a clean tank and polished fuel, we treat the diesel in your tank with proprietary additive blends designed to maximize the amount of time you can expect your diesel stores to comply with industry standards. Relevant Fuel Solutions' Blue42® additive is our flagship product, and we take great pride in every application. Ongoing engineered systems are also available for aboveground, underground, and sub-base tank installations. See our full line of DDS cleaning systems for more information about keeping your diesel fit for purpose.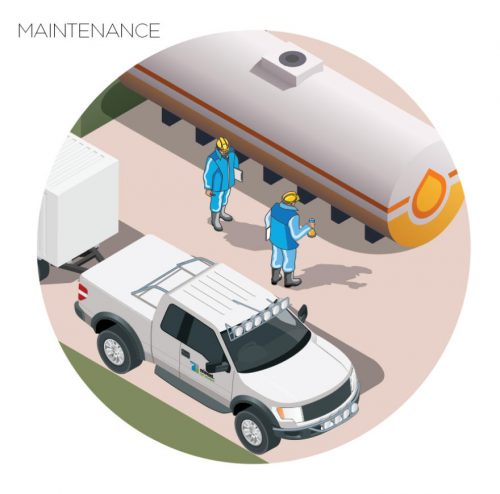 Step 5
Maintaining the Fuel
For customers who have committed significant capital toward owning and operating the latest generation of power equipment, it makes sense to read the fine print on warranty protections and follow up with documented validation of fuel quality. Relevant Fuel Solutions meets this need through routine follow-up testing and the provision of forensic data that documents your organization's compliance with warranty requirements for Tier 4 diesel equipment.
The ongoing monitoring and maintenance of your fuel stores is where Relevant Fuel Solutions stands alone. Our service defines proactivity for organizations that cannot afford down time, and stands in stark contrast to the offerings of our competitors who merely react to problems after the fact. Relevant Fuel Solutions doesn't just fix your fuel problems…we help you avoid them altogether.
Contact us to learn more about how we can help you maintain your entire fuel system in line with industry standards and engine manufacturer warranty requirements.
Free Fuel Sampling Offer
Call us today to set up an appointment, and we'll gladly come and take a look at your fuel stores. Our trained technicians can quickly assess your situation and offer a variety of fuel solutions that might be right for your organization.
Relevant Fuel Solutions for Pre-exisiting Conditions and Preventative Care for your Fuel
DOWNLOAD PDF